In just 10 Days the decade will come to a close and so for movie lovers like me it is an opportunity to look over the decade of movies that are left behind. Over the next few weeks I am going to countdown the best films of the past 10 years from #40 to #1. My choices are personal choices swayed by nothing but the love I have for this medium. These are all great movies. These films all achieved something great. All reached for something special. They are the best of the decade . . .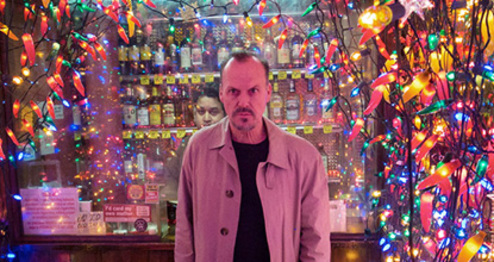 Being an actor must be one of the most psychologically tasking professions that man has yet created. You're asked to move from skin to skin, from soul to soul, from psychology to psychology, from paying gig to paying gig, and also to traverse the minefield of box office success. If you're successful, you're asked to do this with breakneck rapidity. If not, it's a heartbreaking slide into a status of wannabe-never-was. It's no wonder some actors succumb to mental breakdowns and unhealthy choices.

Michael Keaton probably understands this better than anyone else. From Night Shift in 1982 to The Dream Team in 1989, he established himself as one of the most likable comedians in the business, until he was improbably cast in the coveted role of Batman, leading many to regard the news with "Really? Mr. Mom?" But the movie would become one the highest grossing and most beloved action movies of all time, and the peak of Keaton's career. After a less-than-stellar sequel in 1992, he walked away from the role and the remainder of his career never reached that peak again. He could have easily climbed back in the suit, but instead he took the road less traveled, a much wiser role that may speak volumes about his own career path.
There is virtually no way that Keaton could brush off comparisons between his own career and that of the character that he plays in the uber-meta comedy Birdman, as a once great box office star of a hit superhero franchise who walked away from the series at its height but never really found that level of success again. As moviegoers, we love connectivity – we love seeing actors parallel their lives on the screen. We love to ask "what if?" What if Keaton had continued his role as The Caped Crusader under the direction of Joel Schumacher? Would he still be as beloved for the role of Batman if he had continued on?
To ask those questions is to wonder if Keaton himself ever considered this. Alas, we shall never know what might have become of the series and that question is what gives a movie like Birdman – or the Unexpected Virtue of Ignorance, a bit of poignancy.
In what may have been the comeback role of all time, Keaton played Riggan Thomson, a once great box office superstar who starred in the blockbuster Birdman series 25 years ago but walked away from the series after three films, effectively giving up the fame and the money that went with it. Now, past 60, Riggan is the prime candidate for the "Where Are They Now?" files, a washed-up actor who feels that he never really reached his potential. Yet, something is pulling him back – he misses the fame and notoriety that went with the role. It doesn't help that he continually hears the sinister, gravelly voice of Birdman in his head reminding him of this at every moment that his brain is idle.
The need to redeem himself and restore his career to a degree of respectability is what is causing Riggan to lose his marbles. In a last-ditch effort at respectability, he has staked his reputation and all of his money on writing, directing and starring in a flouncy Broadway adaptation of Raymond Carver's "What We Talk About When We Talk About Love."

What could have been just a boring backstage farce, actually turns out to be one of the most entertaining comedies that I have ever seen. Director Alejandro González Iñárritu, usually known for dead serious dramas like Babel and 21 Grams takes a lighter touch here, creating a comedy that is funny not with jokes but in situation. We watch Riggan adrift in his own public image, whose most prolific moments have nothing to do with his work, like a video that goes viral after he accidentally locks himself out of his dressing room and ends up in the street in nothing but his underwear.

The beauty of watching Keaton in this role is seeing the culmination of his career. Riggan Thomson can be seen as a sort of George Bailey-esque reflection of what Keaton has been through – on the negative side of course. We see in Riggan the funny, twitchy sharp-tongued wit that made us fall in love with Keaton in the first place – it's still present in him after all these years. Then we are given constant reminders of the peak of his career with the winged pestilence that forever hangs around neck, reminding him of what he gave up and the years of insignificance that followed, and his shot at redemption that comes at an age when most actors are slipping into semi-retirement.

Michael Keaton may have felt that too. Batman will practically be on his headstone – it's inevitable. So, it is a relief that he got this shot to prove that he was much more than a movie superhero. Riggan feared that in giving himself over to his on-screen persona that he lost much of his great potential. That may be true of Michael Keaton. Perhaps he had reached that height and then was never able to match it in the years that immediately followed. The connectivity of his career, his persona, and his shot at redemption in Birdman gives us the feeling that whatever his career may have been through, it wasn't for nothing.
Jerry Roberts is a film critic and operator of two websites, Armchair Cinema and Armchair Oscars.